Some days ago I received a cool piece of "contemporary art": the iPhone 3G frame by Grid, and I want to share my review of it because I think it's an interesting product for the geek/Apple lovers and it has a correct price tag (in my opinion).
Disclaimer: I'm not involved with Grid and I (unfortunately 😁) paid the full price for it and nobody asked me for a review.
What is? It is an iPhone 3G, my first iPhone, and the first iPhone sold globally, with -almost- all the components exposed under a nice transparent Plexiglas panel framed (in A3 paper size) with a black border.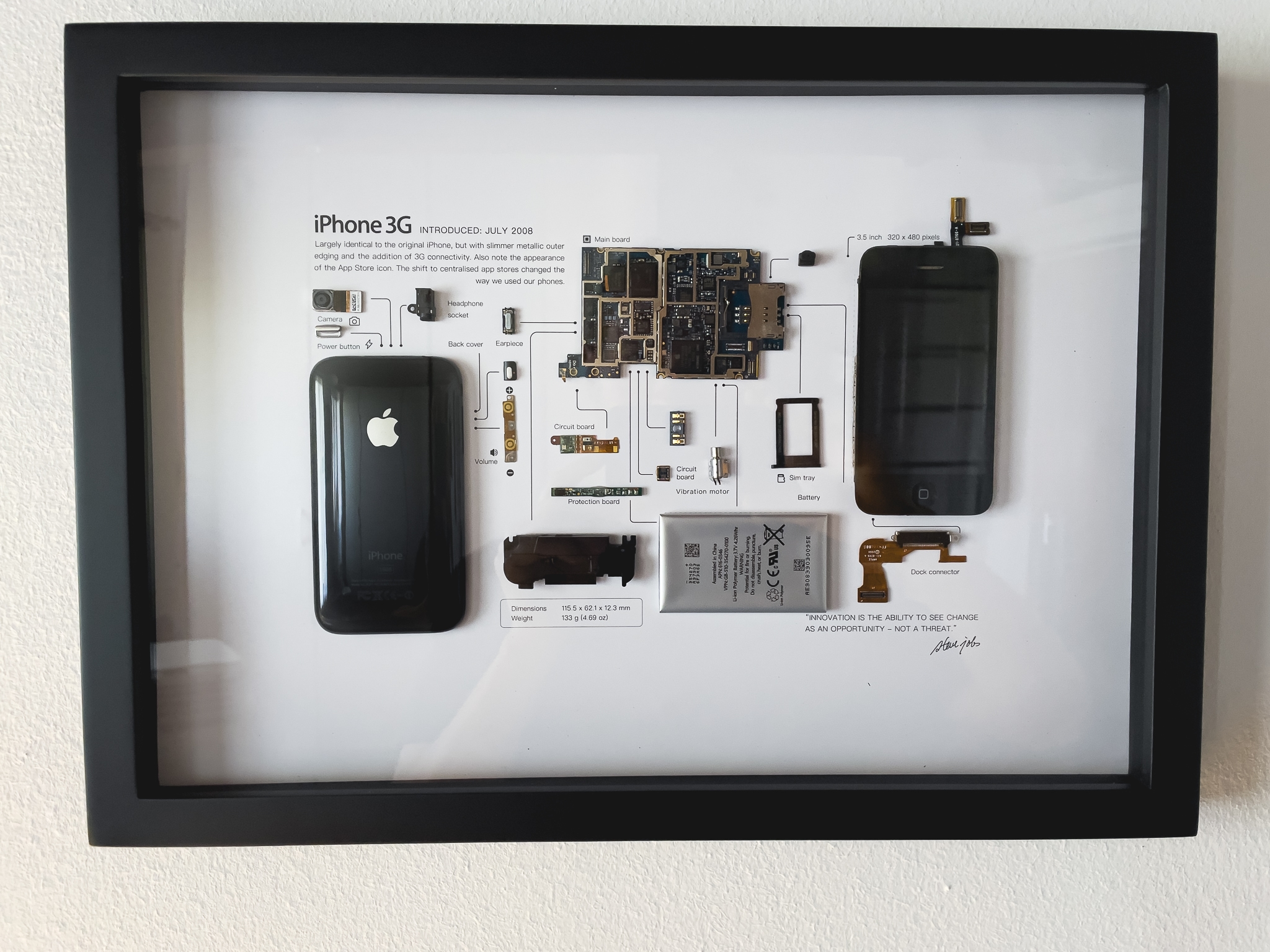 Starting from the package, it is very well-made and it's almost impossible to damage it with the sturdy plastic corners protections: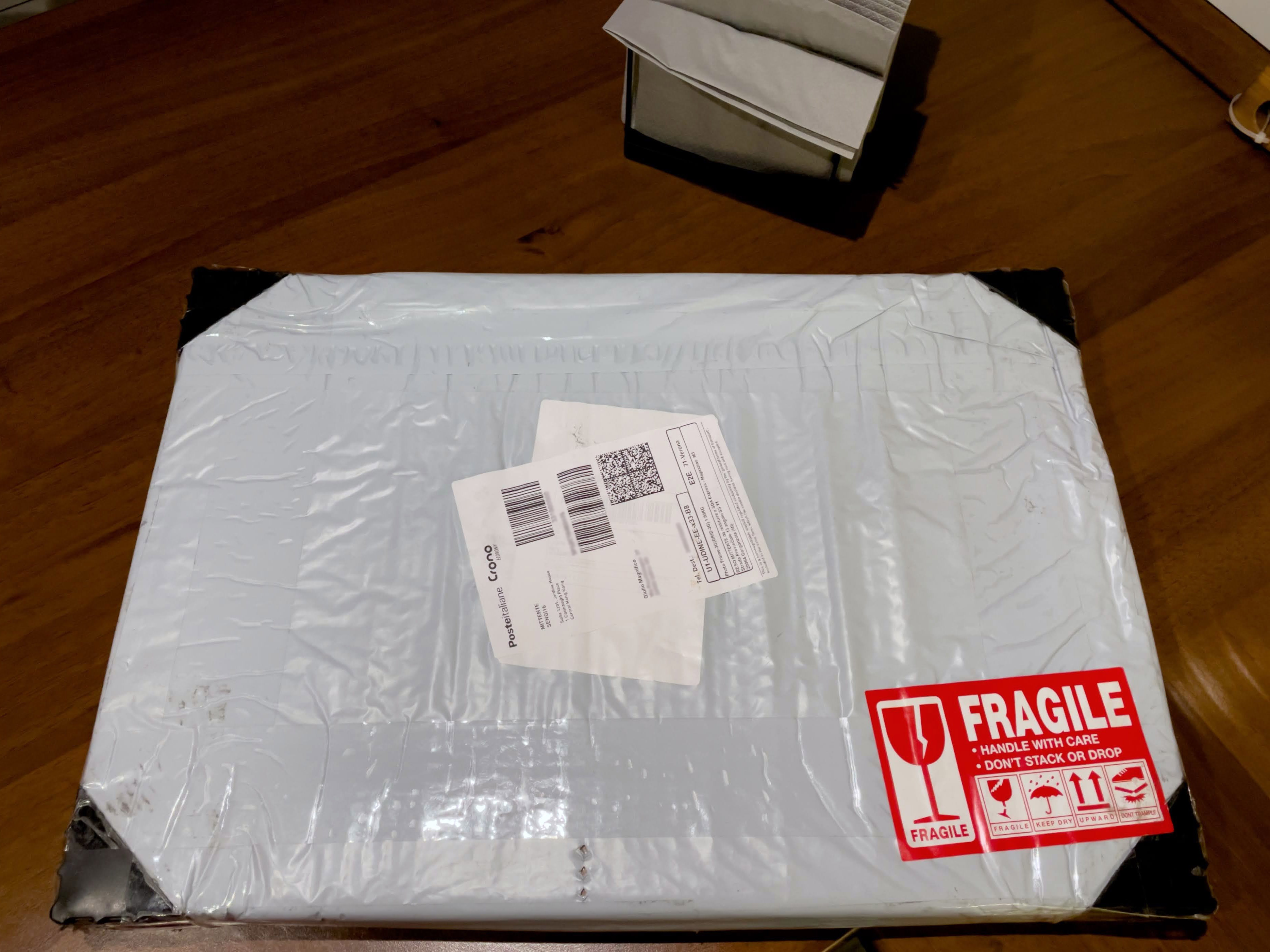 And inside there's a very cool package wrapped in paper, with a protective film on the transparent panel: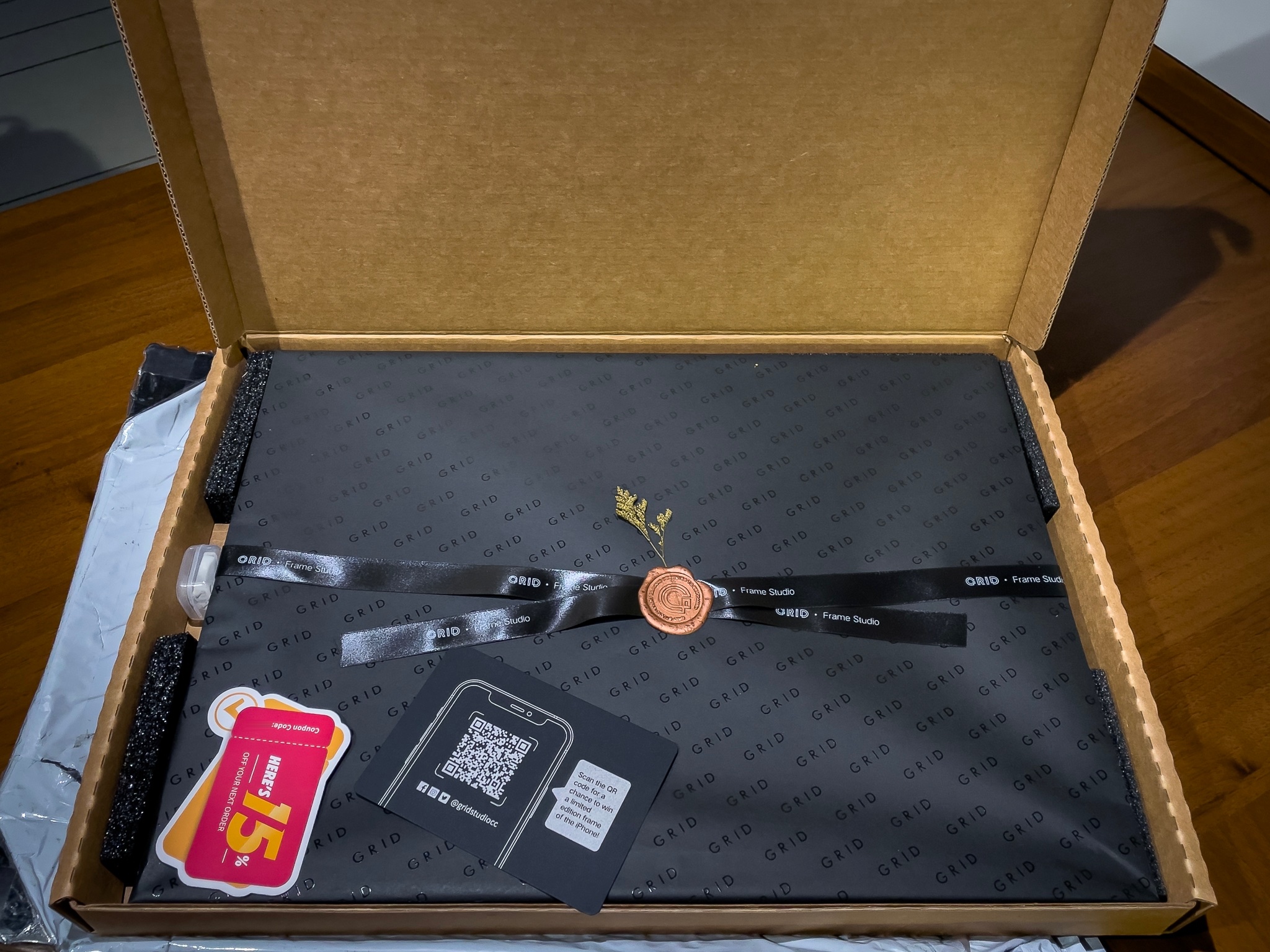 But it's inside were are the interesting things 🤓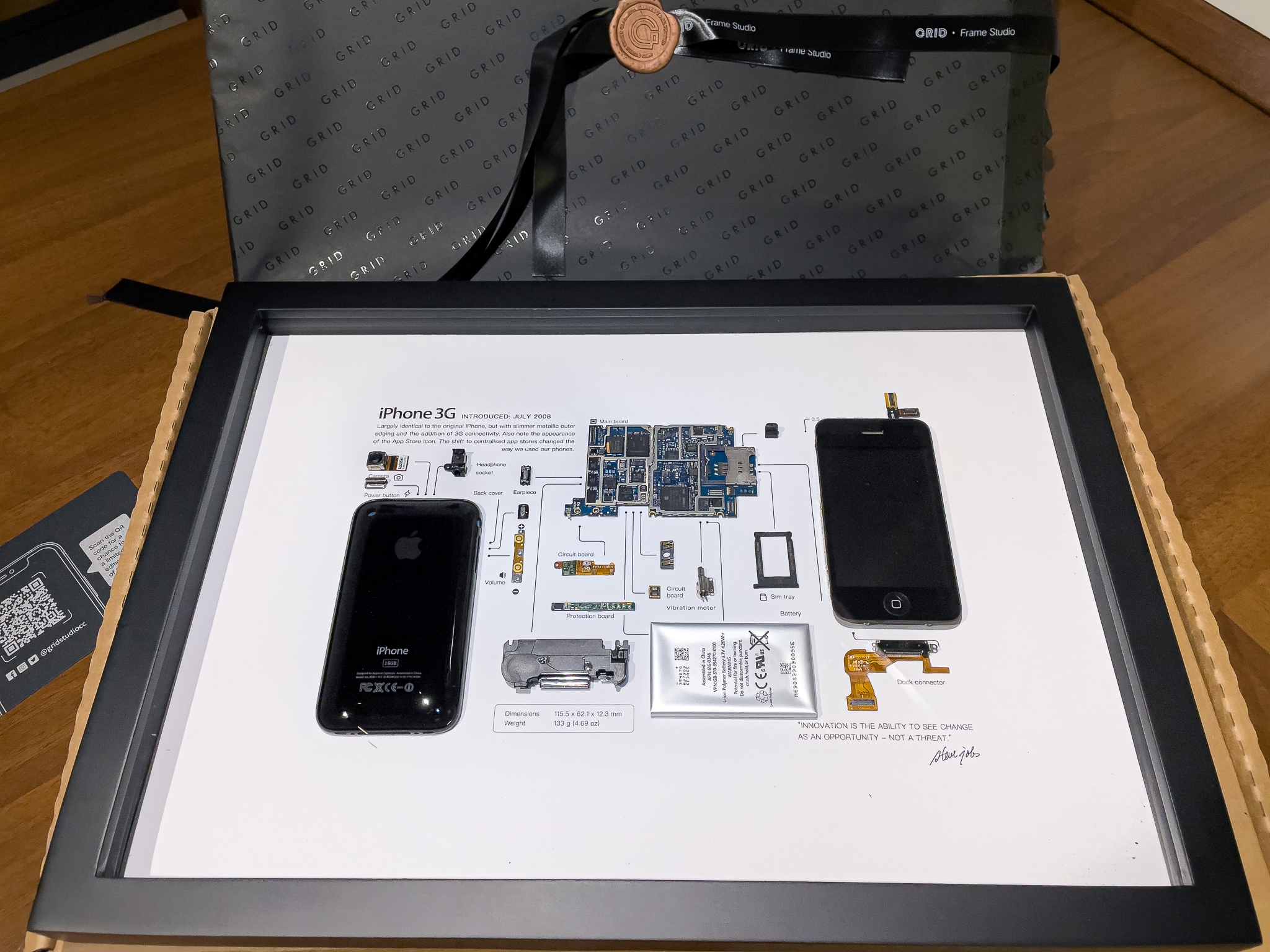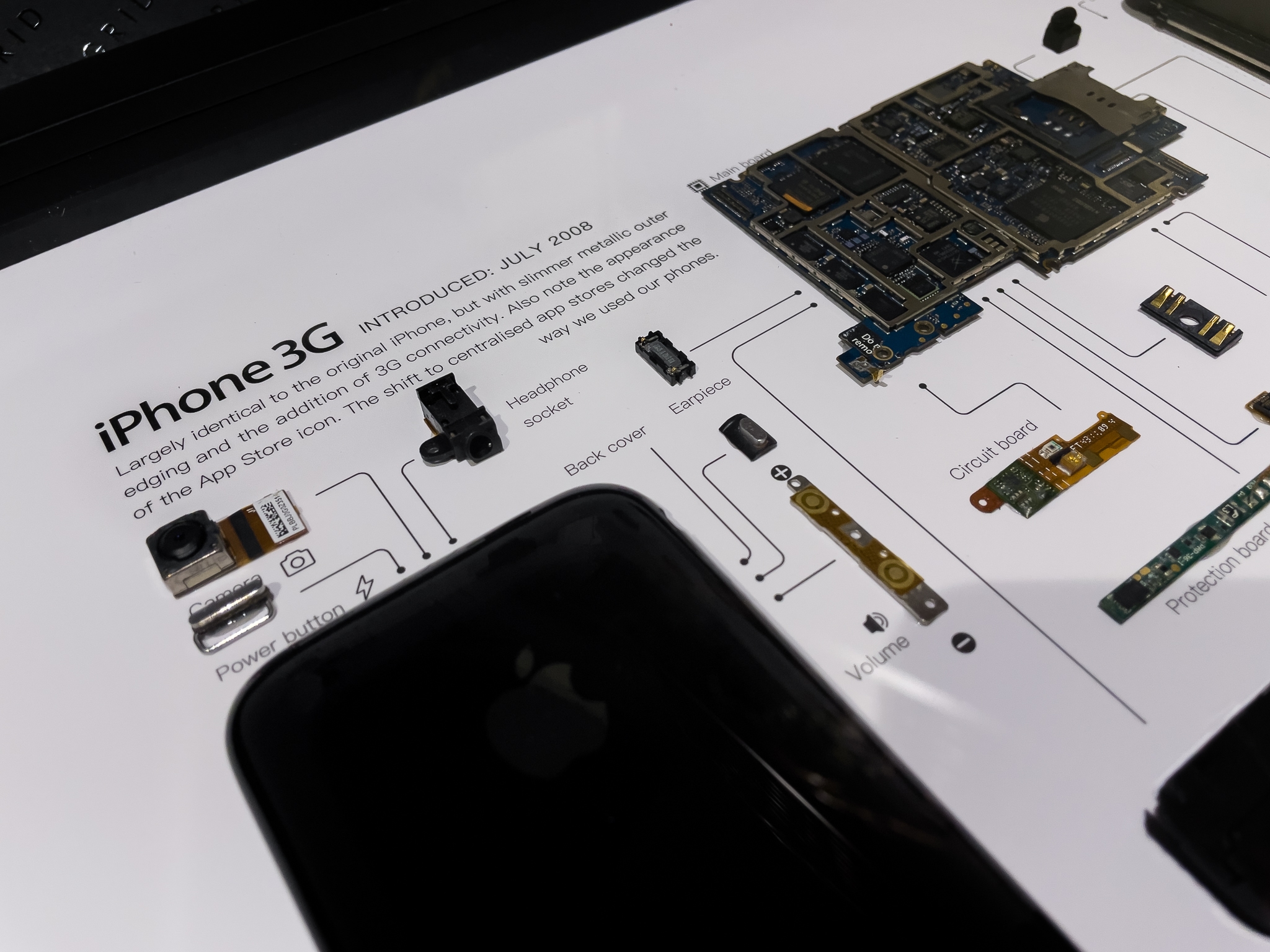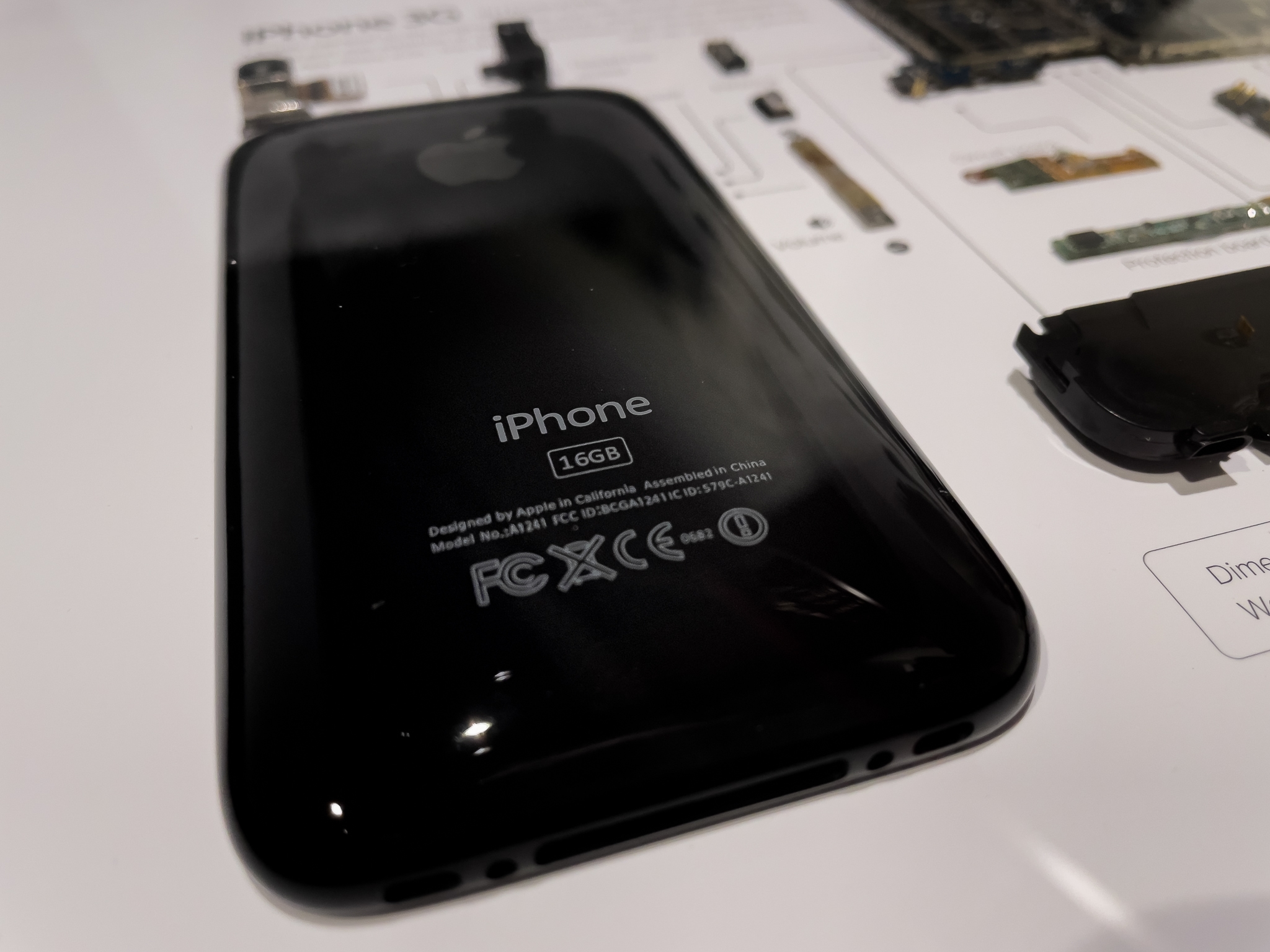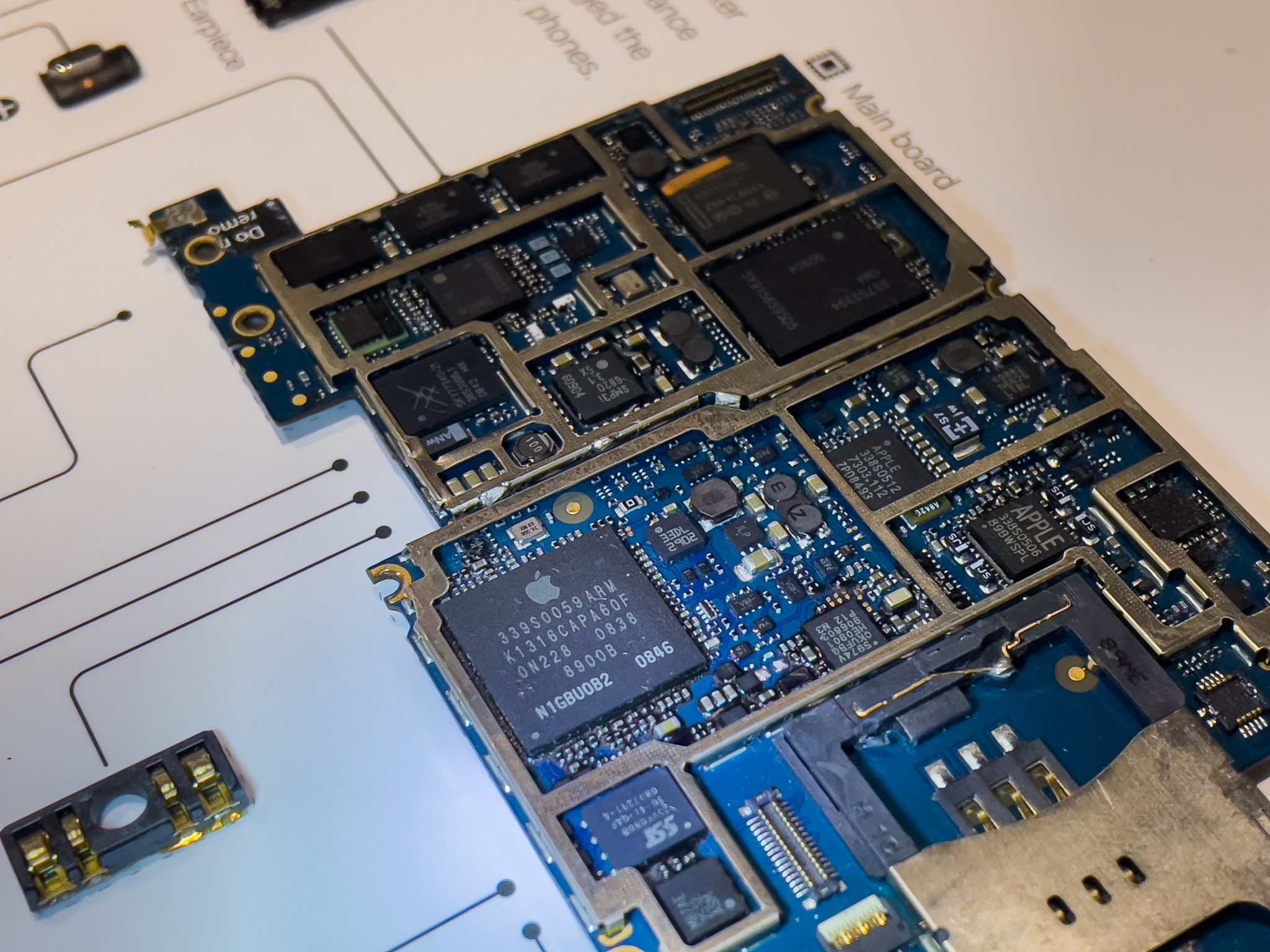 As you can see all the hardware components are cleaned, exposed and fixed on the paper. And with a description of the component. My first fear was that by handling it, a component could have come off. But after I moved it a lot (to put it straight on the wall) no component have moved, so they're well fixed.
But how does it fit on the wall? Well, to hang it on the wall it's very easy with two nails, but since it has the size of an A3 paper (it's not that big) it doesn't fill an entire wall: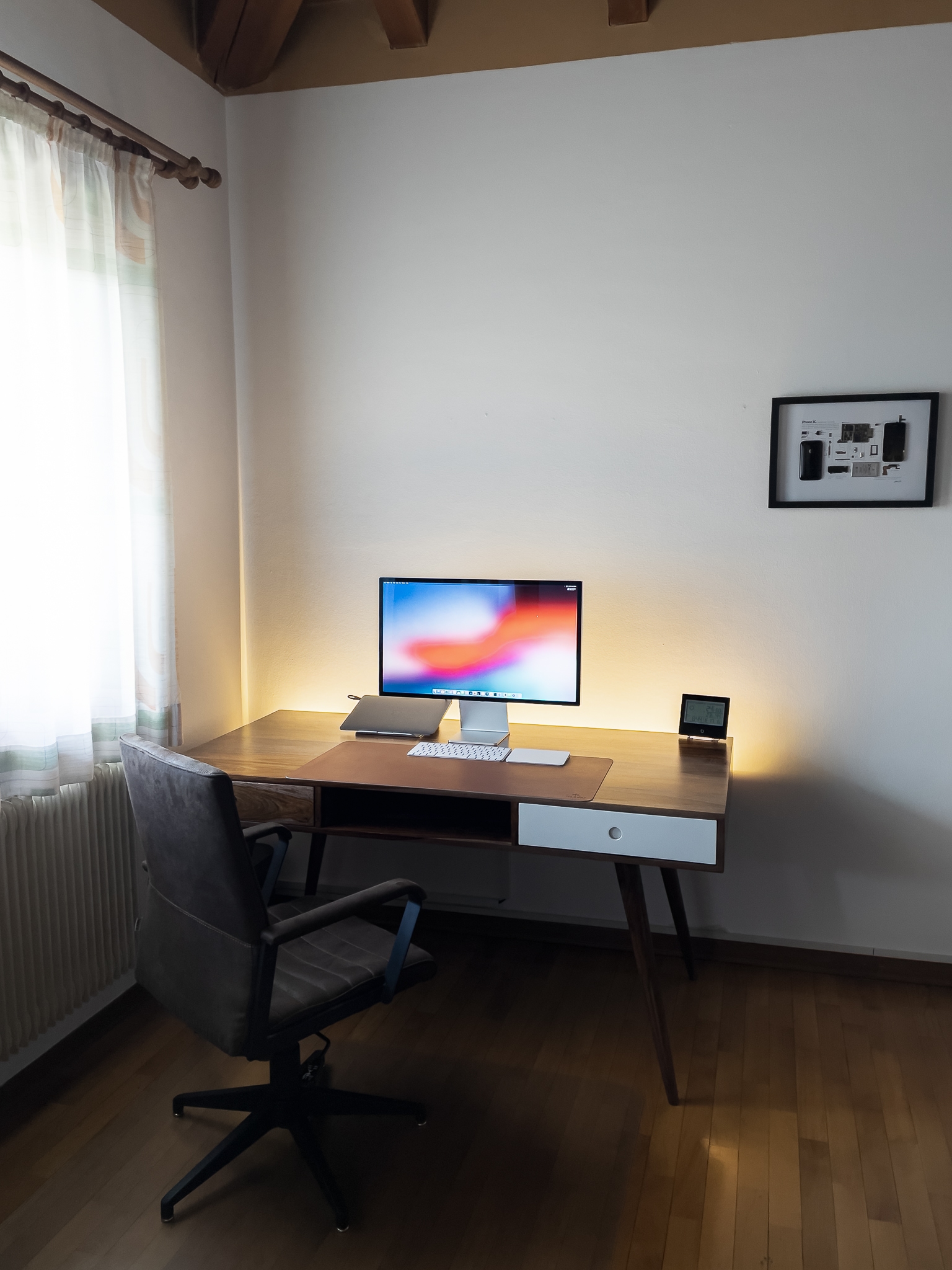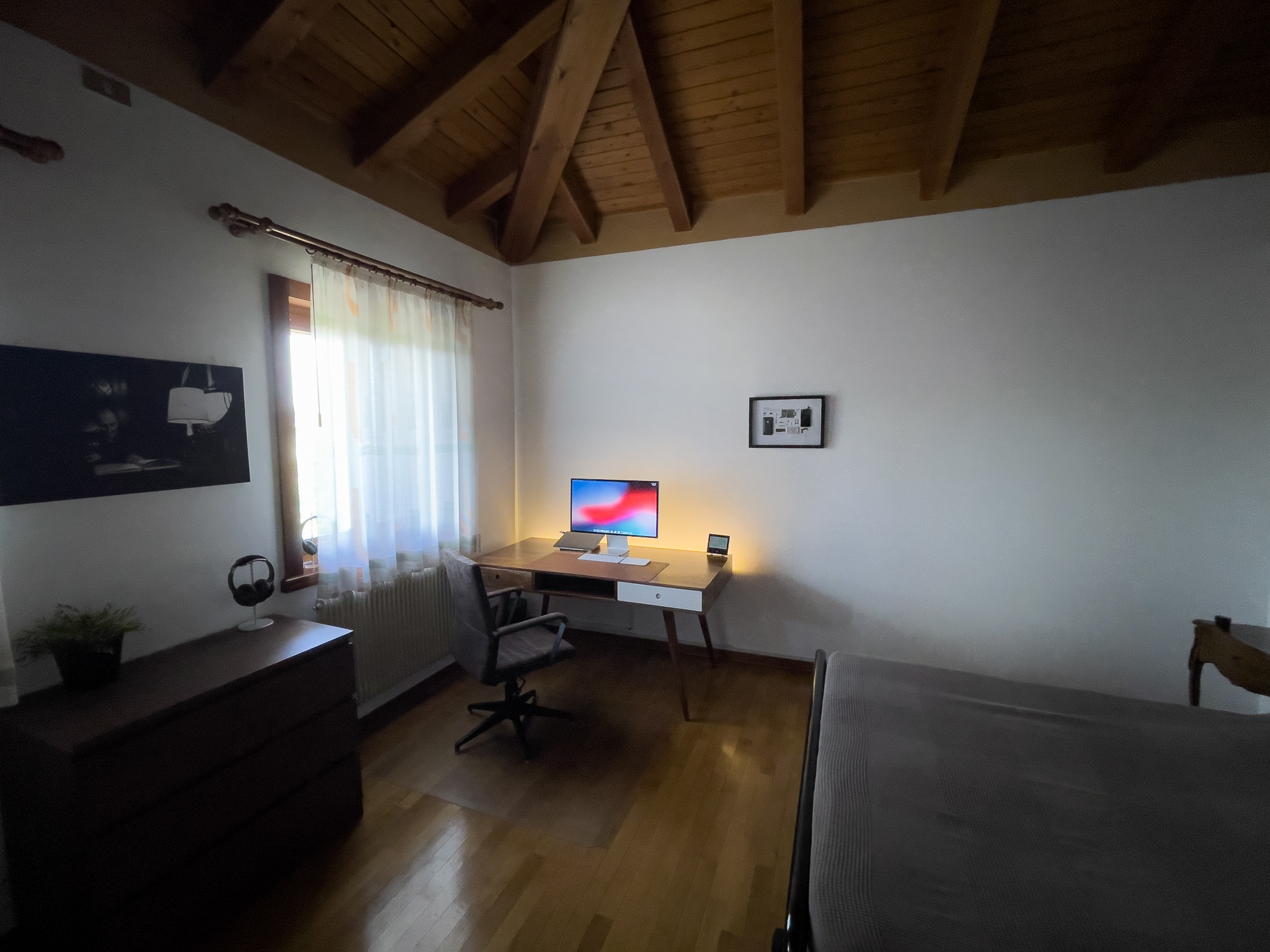 In the end I just think it's a lovely piece of contemporary art, I like it and I love to give it a glance sometimes ❤️
I also think that it could be a future investment, because the iPhone 3G, with all components in good condition, will be everyday harder to find. For example I found some boxed iPhone 3G on eBay for $4/5000. Obviously this is not a boxed phone but I think that, in the next 5/10 years, will be everyday harder to find one in good conditions (to be framed), so the value of this "art piece" will increase over time. Maybe I'm wrong but only the time will tell it and the price (160€) does not pose it as a risky investment.
Another, less material, reason for what I bought/gifted it to myself is because the iPhone 3G was my first (normal functionally) iPhone I've owned (and the first sold outside the U.S.), and I still have it at home with its nice box.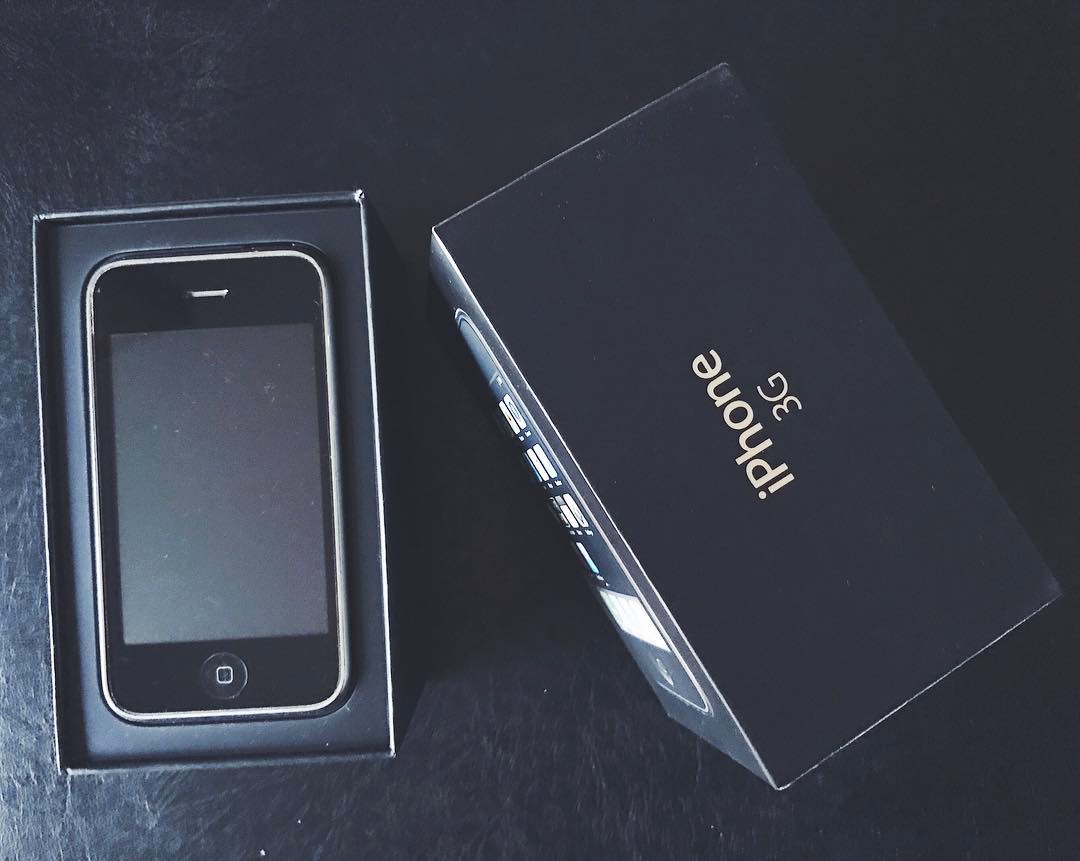 And it was also the first iPhone on which I spent a lot of time in jailbreak and customize it, going back to 2009-2010 years my iPhone 3G was looking in this way: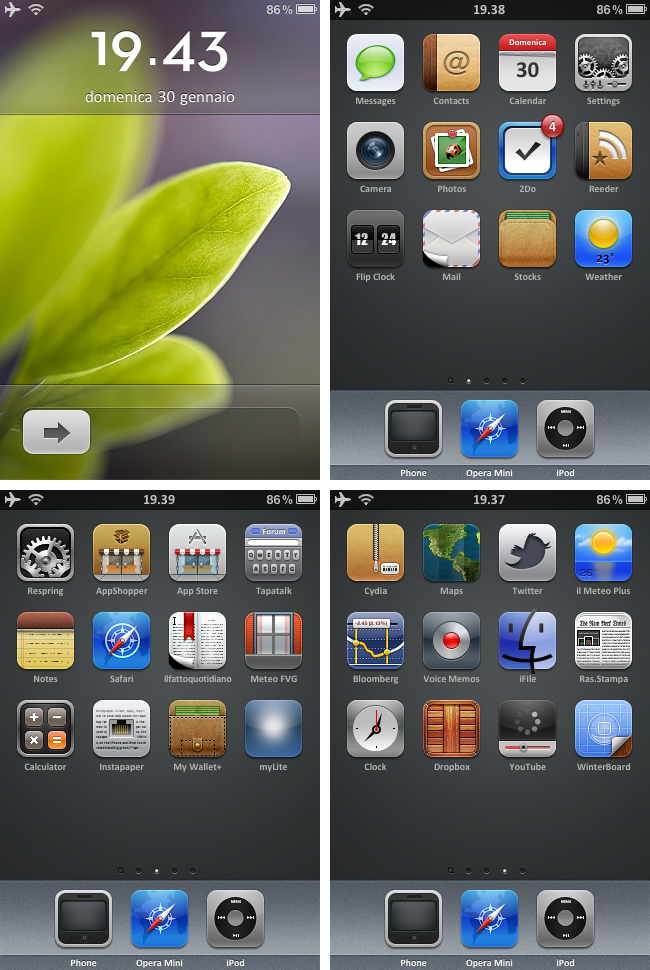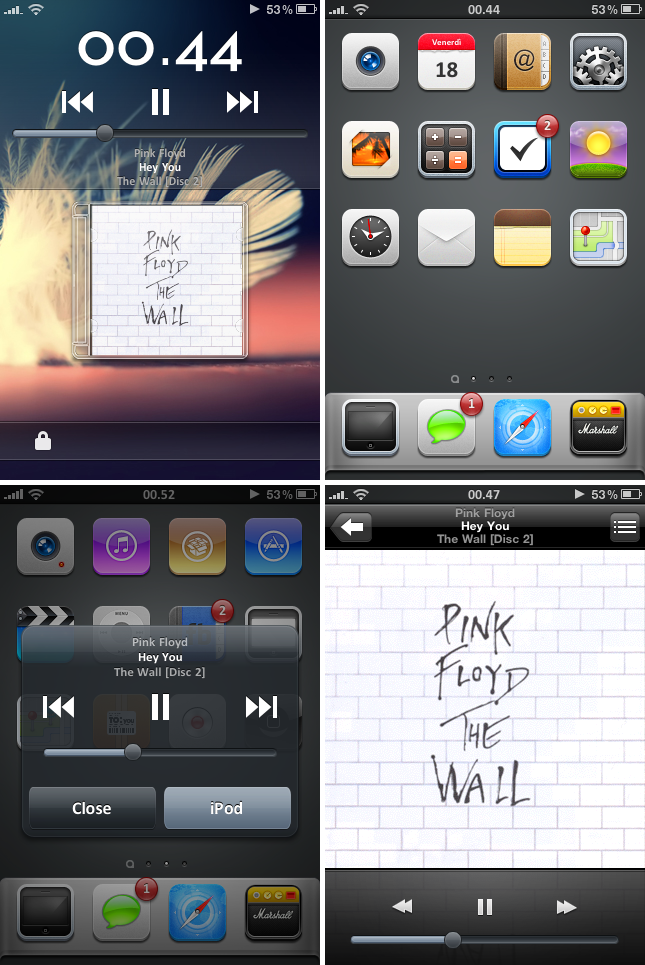 At the time, the jailbreak of iOS 2 and above, was worth it, because you didn't have almost any feature that is on iOS now. Like background refresh, control center, etc… for what I remember only after iOS 5 and 6 it started to offered these useful features built in. And since iOS 5-6 I stopped doing the jailbreak because it's only a security risk and I don't think now it's worth the risk.
Okay stop the nostalgia and go to the details, I think you want to ask some questions like:
Are the components original? Yes, they are, instead the battery of course (due to safety reasons).
How does it cost? Less than 200€, when it's on sale you can buy it for about 160€.
Where I can buy it? Here from Grid
How long it takes to be delivered? In my case it was shipped from China, but it took only 10-12 days to get it and the packet has the tracked so you can follow it.
I can open the rear and do "hack" it? Well, it appears so. I usually use the same frame for my photos and this looks like can be opened but I wouldn't do it without a reason. Just in case a component fall off, I think you can fix it by yourself.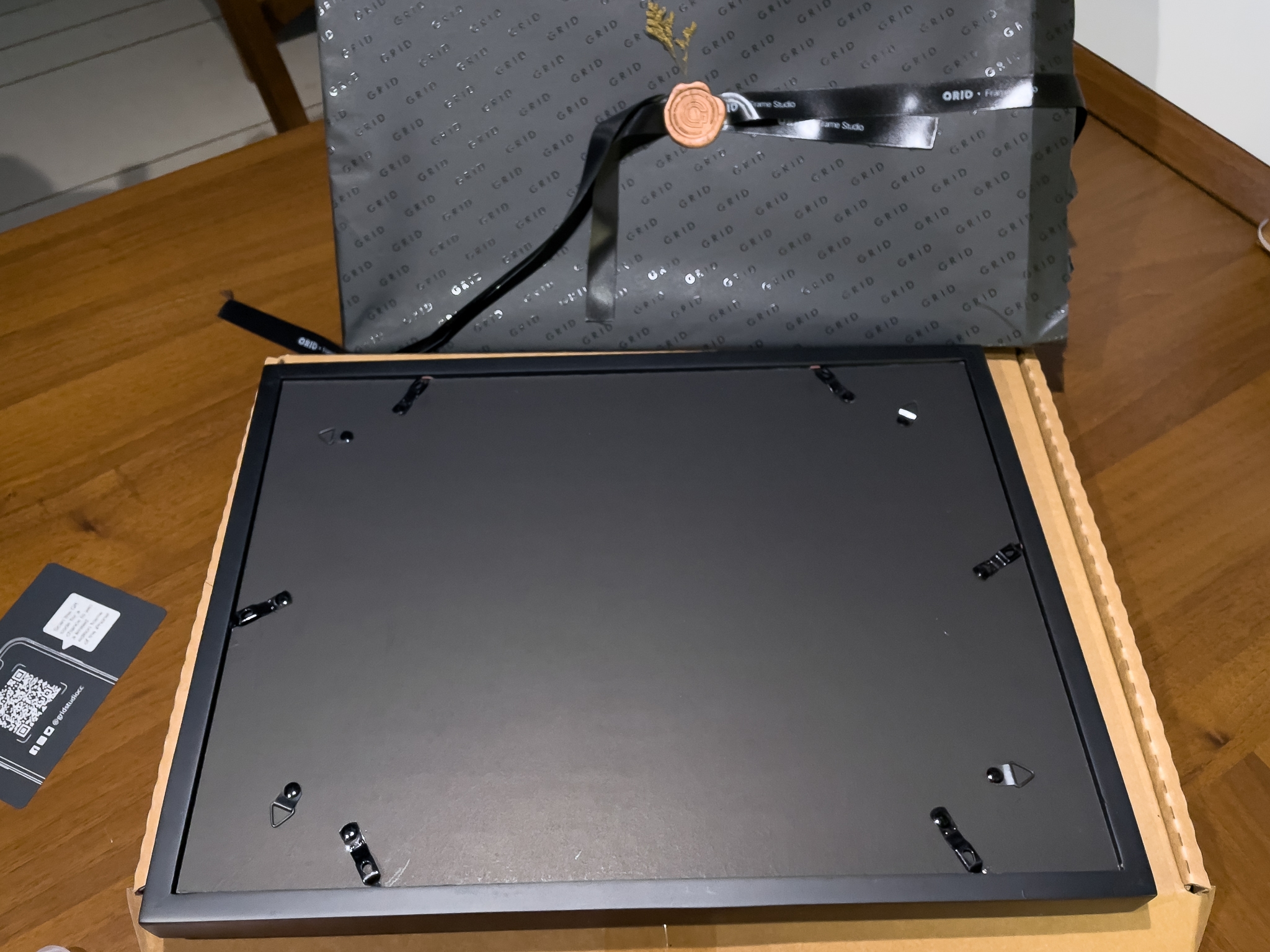 Conclusion: if you are a tech addict guy I think it's absolutely worth it. Maybe don't buy the iPhone if you don't like/own it, there're lots of other gadgets that Grid is framing like this iPhone (other phones, game console, etcc…), here are all the products.